Ultimate Orienteer #8 – Middle
---
The Ultimate Orienteer series is the sampler pack of orienteering: each event gives you the opportunity to try a different flavor!
The eighth event in the series is: THE MIDDLE DISTANCE!
Middle Distance courses will test your technical navigation skills, with a variety of terrain and vegetation details. Moses Lake Sand Dunes is the perfect choice!
Stay for the Goat at Fishtrap Lake on Sunday. And in case you want even more orienteering, EWOC is hosting 3 days of events in the Spokane area Monday-Wednesday. Check the events page for details.
Heat
Temperatures in the Moses Lake area in June can be very high. You should start your course as early as possible to avoid the heat. There will be one water control, but you are strongly advised to take water on the course with you.
Camping
COURSES
Course designer(s): Ing Uhlin, Dave Tallent
Beginner – 2.0 km, 9 controls
Intermediate – 2.1 km, 10 controls
Short Advanced – 4.0 km, 10 controls
Long Advanced – 6.0 km, 13 controls
How are courses measured?
Courses are measured as the crow flies, in a direct line from control to control. Unless you have wings, you will travel farther than this distance! Courses are measured in kilometers, so a good rule of thumb is to simply round up to miles to estimate how far you will go. So in a 5 kilometer race, you'll likely travel up to 5 miles.
COURSE NOTES
The courses are fast and very runnable over rolling sand hills, with lots of route choice, but could be navigationally challenging if you don't pay attention to the details.
The water levels in the ponds and small lakes may vary. Many on the north part of the map were re-mapped in May when the water was higher. It is possible that some ponds and lakes will return to marshes by June. Some marshes may have dried up and are now thick vegetation, which would be dark green on the map.
There are many small subtle features not mapped – small depressions, reentrants, and knolls – go for the big stuff!
There is a prevalence of short spiky/thorny plant (natural barbed wire). For your enjoyment wear gaiters.
On our reconnaissance, we did find some broken barbed wire. For visibility we graced it with pink surveyors tape. Also watch for holes/burrows in the ground; they seem more common in the area between the road and the lake.
There is one trail marked with orange streamers on the Long Advanced course. For a good experience, use it. You can, of course, decide to swim and have your own adventure.
Note the out of bounds area around the "shooting gallery." Keep to the right (a marsh) or left (a trail) and stay to the low side west of the hill. Your course leads you away from potential conflict. However, be vigilant and cautious in this area.
We have tried to design the courses so that the most opportune route choices will NOT take you along the road to maximize your orienteering experience. Please avoid the road if you can since the cars go pretty fast on the road.
Safety bearing: If on the west part of the map – go EAST to the road and north on the road to Finish. Check in at Finish even if you abandon course.
There is one water control at #161. However, you should consider taking water with you, especially if you are out in the midday sun.
 We are positive you will have as an enjoyable racing experience as we did designing the courses. Please consider arriving early and running before the heat of the day. Start will be open by 9:15 am (possibly earlier).
Warmly,
Dave and Ing
SCHEDULE
Registration: 9:00-11:45am
Starts: 9:15am-noon
Course closure: 2:30pm (report to the finish by this time to avoid disqualification)
Newcomer instruction: 9:30-10:30am
PRICES
PRE-REGISTRATION PRICES
$17 base price
– subtract $5 for CascadeOC members
– subtract $5 for using your own e-punch
DAY-OF-EVENT REGISTRATION
$20 base price
– subtract $5 for CascadeOC members
– subtract $5 for using your own e-punch
What's an e-punch?
An e-punch records your race. At each control, you'll dip the e-punch into an electronic box, which will beep and flash as confirmation. After you finish, you'll download the e-punch at the download tent and get a receipt that show which controls you visited and how long you took between each; these are your "splits."
Part of the fun of orienteering is comparing your splits with people who completed the same course, and discussing the routes you took!
SIGN UP
Online pre-registration closes: 9:00 pm, Thursday, June 15
Day-of-event registration is available by cash or check, made payable to Cascade Orienteering Club.
Volunteers make these events happen! You can volunteer and participate on the same day, plus earn volunteer points to earn a free meet.
THE MAP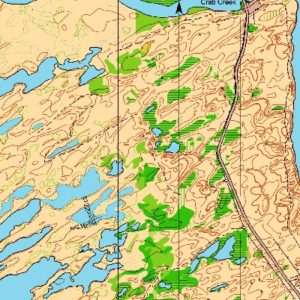 First used for the 2010 US Orienteering Championships, this 1:10,000-scale map has a 2.5-meter contour interval, reflecting the subtle nature of the area's topography.
Read more on the map page
SAFETY & ETIQUETTE
Return to the Finish
All participants MUST return to the finish and download their e-punch or turn in their punch card.
Even if you have not finished your course, you must still return to the the finish and confirm with event staff that you have returned safely.
Out of Bounds
Some areas may be marked out of bounds. It is imperative to respect these boundaries to maintain our relationships with land managers. Participants MUST NOT go out of bounds. Any participant caught going out of bounds will be disqualified.
Course Closure
All participants MUST return to the finish by course closure time. If a participant does not return by course closure, event volunteers will begin coordinating a search party.
If you need a long time on the course, start as early in the start window as possible, wear a watch, and be prepared to cut your course short to make it back by the course closure time.
Whistle
All participants MUST carry a whistle on the course. Complimentary whistles are available at the start tent (please only take one).
If you are injured on the course and need assistance, blow three long blasts to call for help.
If you hear a call for help, abandon your course to find the person in distress.
Voices
Part of the fun and fairness of orienteering is navigating your own course, so please be polite when you find a checkpoint and don't holler that you've found it.