Ultimate Orienteer #4 – Sprint
---
The Ultimate Orienteer series is the sampler pack of orienteering: each event gives you the opportunity to try a different flavor!
The fourth event in the series is: THE SPRINT!
A sprint is a relatively short race, but it's about more than distance. A sprint challenges your ability to make quick decisions while under pressure. It may take you just 30 seconds to get from one control to the next, so you won't want to spend 10 seconds standing still, deciding which way to go. In sprint orienteering, it's Go Go Go!
If one sprint race is not enough to get your fix, stick around for the relay in the afternoon!
COURSES
Course designer(s): Rick Breseman, Ryan Breseman
Beginner 1.6 km, 15 Controls
Intermediate 2.8 km, 13 Controls
Advanced 4.2 km, 18 Controls
How are courses measured?
Courses are measured as the crow flies, in a direct line from control to control. Unless you have wings, you will travel farther than this distance! Courses are measured in kilometers, so a good rule of thumb is to simply round up to miles to estimate how far you will go. So in a 5 kilometer race, you'll likely travel up to 5 miles.
COURSE NOTES
Welcome to North Seattle College – Site for the Sprint and Two Person Relay! If you haven't been here before, this is one of our more technical maps, with two levels of buildings to navigate. It's also a relatively small area, so be sure to check your description sheets carefully – between the two events, there are a lot of controls.
The most unique feature of NSC is its two-story campus. The shapes of the buildings do vary between the stories, with the first floor denoted by dotted lines. You'll need to think ahead to avoid getting stuck on the wrong level. Our intent was to make finding the best routes tricky, but to avoid any "gotcha" legs.
The southeastern parking lot appears to be home to some construction work at the moment. This should not affect any route choices, but the lot is not as empty as a college parking lot might usually be on a Saturday.
Some of the longer courses will pay a visit to nearby Licton Springs Park, which involves a short sidewalk run. Please observe traffic laws, and cross only at the intersections that are not marked out-of-bounds. The out-of-bounds area is marked with red vertical lines and it is important to note that observing allowed crossing points in advance will be a key to success. On campus, the out of bounds areas for landscaping and private areas are in olive green.
When we were designing the courses, the north end of the map was experiencing flooding. Bring an extra pair of socks for the drive home, and assume that any seasonal water features will be very wet.
We hope you enjoy running as much as we did setting! ~Ryan & Rick
SCHEDULE
Registration: 8:45-10:45am
Starts: 9:00-11:00am
Course closure: 12:30pm
PRICES
PRE-REGISTRATION PRICES
$17 base price
– subtract $5 for CascadeOC members
– subtract $5 for using your own e-punch
DAY-OF-EVENT REGISTRATION
$20 base price
– subtract $5 for CascadeOC members
– subtract $5 for using your own e-punch
What's an e-punch?
An e-punch records your race. At each control, you'll dip the e-punch into an electronic box, which will beep and flash as confirmation. After you finish, you'll download the e-punch at the download tent and get a receipt that show which controls you visited and how long you took between each; these are your "splits."
Part of the fun of orienteering is comparing your splits with people who completed the same course, and discussing the routes you took!
SIGN UP
Online pre-registration closes: 9:00 pm, Thursday, April 6
Day-of-event registration is available by cash or check, made payable to Cascade Orienteering Club.
Volunteers make these events happen! You can volunteer and participate on the same day, plus earn volunteer points to earn a free meet.
PARKING
Follow orienteering signs to the parking area in the north lot.
THE MAP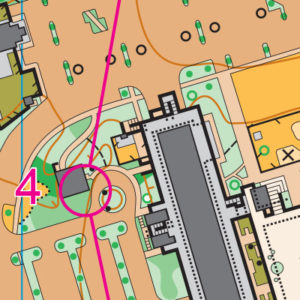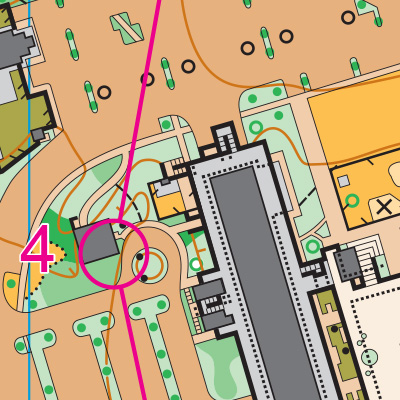 Which way is up and which way is down? North Seattle College will have you asking this question. Featuring the unique opportunity to figure out whether you need to be "upstairs" or "downstairs," and wonder whether there will be a wall or a pass-through when you turn the corner.
Read more on the map page
SAFETY & ETIQUETTE
Return to the Finish
All participants MUST return to the finish and download their e-punch or turn in their punch card.
Even if you have not finished your course, you must still return to the the finish and confirm with event staff that you have returned safely.
Out of Bounds
Some areas may be marked out of bounds. It is imperative to respect these boundaries to maintain our relationships with land managers. Participants MUST NOT go out of bounds. Any participant caught going out of bounds will be disqualified.
Course Closure
All participants MUST return to the finish by course closure time. If a participant does not return by course closure, event volunteers will begin coordinating a search party.
If you need a long time on the course, start as early in the start window as possible, wear a watch, and be prepared to cut your course short to make it back by the course closure time.
Whistle
All participants MUST carry a whistle on the course. Complimentary whistles are available at the start tent (please only take one).
If you are injured on the course and need assistance, blow three long blasts to call for help.
If you hear a call for help, abandon your course to find the person in distress.
Voices
Part of the fun and fairness of orienteering is navigating your own course, so please be polite when you find a checkpoint and don't holler that you've found it.