Ultimate Orienteer #3 – One-Person Relay
---
Part of the Ultimate Orienteer Series, COC's variety pack of orienteering events.
---
Join us for a unique relay event. Called a "Farsta" (after the Swedish region in which it originated), you'll be teaming up with yourself for a 3-legged relay.
The Farsta relay uses forking controls, so while everyone will end up completing all the legs, they will do them in a different order. Don't assume the person in front of you is going to the same control!
Please help us ordering the right number of maps by PRE-REGISTER EARLY. It would really help us if you can pre-register by Wednesday evening, preferably by 9 pm. Thank You!!
There will be a plant sale at the Botanical Garden at the same time as this event. Please make sure to use the parking lot for the Wilburton Park (accessible from the corner of Main St and 124th Ave NE) and not the Botanical Garden lot.
COURSES
Course designer(s):
There will be one relay course with 3 legs.
Beginner – 1 leg (1k)
Intermediate – 2 legs (4k)
Advanced (All Ultimate categories) – 3 legs (6k)
How are courses measured?
Courses are measured as the crow flies, in a direct line from control to control. Unless you have wings, you will travel farther than this distance! Courses are measured in kilometers, so a good rule of thumb is to simply round up to miles to estimate how far you will go. So in a 5 kilometer race, you'll likely travel up to 5 miles.
COURSE NOTES
The Wilburton Hill map is 1:5000 with 2.5-meter contours. I totally remapped this park with the intention of using lots of open forest only to learn recently that we have been be restricted to trails only! Hence, controls are set very near to the trails, within a few meters. This is mostly for security reasons (theft). With this in mind, I had to incorporate a few dog-legs
There are many sections of the forest that are runnable and inviting and offer wonderful shortcuts. However, unless you see a trail, please observe the park rules of staying on the trails.
The botanical gardens and all trails associated with the gardens are out of bounds.
What makes Ultimate #3 unique?
• This is a one-person relay with forking loops (known as a Farsta)
• There are 3 x 2K loops with 9 controls each and maybe 40m of climb each. Total actual distance is approx. 5 miles.
• Everyone runs all the same legs in the same direction, but NOT in the same order.
• There are 36 variations and you most likely will have your own "individual" course! This ensures that groups will be broken up often. Hence, following will be swiftly punished by the constant forking.
• At registration you will be given a card with YOUR individual map sequence. Please do not open the card until instructed to do so. This will add to the surprise, fun and chaos of the race. But keep the card with you (or memorize the numbers) because you will need to know the numbers of your next maps at the map exchanges.
• In the map exchange chute, drop your completed loop map and proceed to the map box of YOUR next number.
• The trails are good and fast. I have designed the event so that, apart from the run-in, no trail should be run in the same direction twice, unless you, of course, desire to.
• Mass-start will be at 10:30am. Don't be late and miss the fun!
David Tallent
SCHEDULE
Registration: 9:00-10:00am
Pre-race instructions: 10:15am
Map Handout: 10:20am
Mass start Times
Open – 10:30am
Junior/Masters – 10:32am
Beginner/Intermediate/Groups – 10:34am
Course closure: 1:30pm
Newcomer instruction: 9:00-10:00am
PRICES
PRE-REGISTRATION PRICES
$17 base price
– subtract $5 for CascadeOC members
– subtract $5 for using your own e-punch
DAY-OF-EVENT REGISTRATION
$20 base price
– subtract $5 for CascadeOC members
– subtract $5 for using your own e-punch
What's an e-punch?
An e-punch records your race. At each control, you'll dip the e-punch into an electronic box, which will beep and flash as confirmation. After you finish, you'll download the e-punch at the download tent and get a receipt that show which controls you visited and how long you took between each; these are your "splits."
Part of the fun of orienteering is comparing your splits with people who completed the same course, and discussing the routes you took!
SIGN UP
Online pre-registration closes: Thursday, April 12 at 9pm
Day-of-event registration is available by cash or check, made payable to Cascade Orienteering Club
Volunteers make these events happen! You can volunteer and participate on the same day, plus earn volunteer points to earn a free meet.
PARKING
Park in the main lot and follow signs to registration.
THE MAP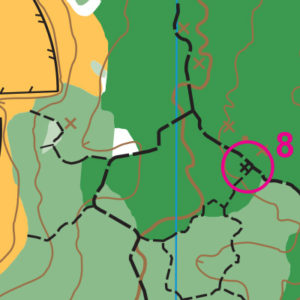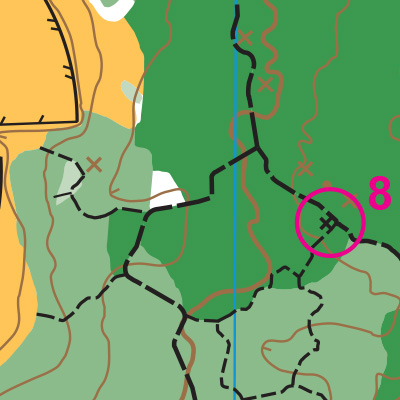 Wilburton Hill Park combines two trail networks and two campuses in a single, mostly wooded venue…with a secret large suspension bridge hidden in it. And because it's built on a hillside, you get a full workout exploring the venue.
Ch. 3.43 Parks and Recreation Facilities Code | Bellevue City Code (municipal.codes)
A. It shall be unlawful for any person to clear, cut, damage or remove any tree or vegetation located on property owned or leased by the city without the express written permission of the city manager or his or her designee.
B. Violation of this section is a civil violation under Chapter 1.18 BCC, subject to penalties set forth in BCC 1.18.045. (Ord. 5452 § 1, 2003; Ord. 4480 § 22, 1993; Ord. 4071 § 1, 1989.)
Read more on the map page
SAFETY & ETIQUETTE
Return to the Finish
All participants MUST return to the finish and download their e-punch or turn in their punch card.
Even if you have not finished your course, you must still return to the the finish and confirm with event staff that you have returned safely.
Out of Bounds
Some areas may be marked out of bounds. It is imperative to respect these boundaries to maintain our relationships with land managers. Participants MUST NOT go out of bounds. Any participant caught going out of bounds will be disqualified.
Course Closure
All participants MUST return to the finish by course closure time. If a participant does not return by course closure, event volunteers will begin coordinating a search party.
If you need a long time on the course, start as early in the start window as possible, wear a watch, and be prepared to cut your course short to make it back by the course closure time.
Whistle
All participants MUST carry a whistle on the course. Complimentary whistles are available at the start tent (please only take one).
If you are injured on the course and need assistance, blow three long blasts to call for help.
If you hear a call for help, abandon your course to find the person in distress.
Voices
Part of the fun and fairness of orienteering is navigating your own course, so please be polite when you find a checkpoint and don't holler that you've found it.