PNWOF2022: Ultimate Orienteer #6 – Fishtrap Lake (Middle), NRE
---
WATER: There will be no water provided on the courses so please bring your own water container/bladder.
START: The start for Brown, Green, Red, and Blue is approximately 2.5k flat walk from the parking area. Please leave early enough to arrive for your assigned start time. You will pass the finish on your way to the start.
COVID-19
Please take the following precautions during the event.
You don't need to wear a mask at our events if you are vaccinated, but mask wearing is encouraged in congested areas or if you are not vaccinated and near others
Please stay home if you are sick; we'll happily refund your entry fee if you have tested positive for COVID-19
Keep a six foot distance from others when it is practical, or at least avoid being in close proximity for a long time in still air
Limit touching of shared surfaces and items, and clean your hands before and after
Thank you for helping us keep our events safe and fun for you and everyone else!
Join us for a National Ranking Event in the scablands of Eastern Washington.
This event is part of the Pacific Northwest Orienteering Festival. Register through the PNWOF registration site for the entire festival or select the events you want to attend.
Start/Finish
Brown, Green, Red, and Blue start times are available here. White, Yellow, and Orange do not have assigned times (start will be open from9:30am to 12:30pm).
White, Yellow, Orange Start and Finish
The start and finish for White, Yellow, and Orange are near the parking area.
Brown, Green, Red, Blue Start
In order to use the best available terrain, the start for these courses is approximately 2k from the parking area. Please plan accordingly.
Brown, Green, Red, Blue Finish
The finish for Brown, Green, Red, and Blue is 1k from the parking. You will pass the finish on your way to the start.
Start Times
Start times will be pre-assigned. We'll post a link once they are finalized (some time on Thursday, June 9).
Volunteer
We can always use volunteers! Take a look at the list and sign up now!
Volunteer points
COC members, you may use volunteer points to pay for a portion of your entry fee (for Fishtrap events ONLY). Email pnwof@cascadeoc.org and ask for a discount code, specifying one event day or both. Registration for the festival will close Thursday, June 2 at midnight PDT. Registration for just the Fishtrap events will be open until Wednesday, June 8 at 9pm PDT.
Before you register, see the Pacific Northwest Orienteering Festival page for important details!
Timing system
We will use the SPORTident electronic timing and punching system for all courses. All competitors are required to use an SI-Card to participate. If you don't own your own, sign up to rent one when you register. The SI-units will not be set up for Air+ punching.
Malfunction
If the SI unit fails (you don't hear a beep or see a flash), use the manual pin punch to punch your map.
COURSES
Course designer(s): Pat Kelly, Chris Whitmyre
| | | | |
| --- | --- | --- | --- |
| Course | # Controls | Length | Climb |
| White | 8 | 2.2 km | 40 m |
| Yellow | 8 | 2.4 km | 50 m |
| Orange | 10 | 2.8 km | 65 m |
| Brown | 9 | 2.7 km | 95 m |
| Green | 12 | 3.7 km | 125 m |
| Red | 9 | 3.9 km | 130 m |
| Blue | 15 | 5.7 km | 190 m |
Terrain
Experience the unique scabland terrain of Fishtrap Lake, where the vistas are expansive but details are plentiful. There are few trails in this area, so you'll  appreciate the plethora of contour and rock details as you traverse this beautiful desert area. June is a great time of year for wildflowers here, so you might want to take a moment to enjoy them.
Out of Bounds areas
Most of the area we're using belongs to the Bureau of Land Management. They have identified several sensitive areas, which are out of bounds for our competition. These areas are clearly marked on the map with vertical purple lines. The courses have been designed to avoid them, so make sure your route choice does not include travel through ANY out of bounds areas!
Mountain Biking
Mountain biking is only allowed for control pickup, so if you want to ride your bike, please volunteer to pick up controls after the event is over.
Dogs
Per our permit agreement with the BLM, your dog is not allowed to accompany you on the course. Please respect this restriction.
Camping
Camping areas near Fishtrap:
Lodging possibilities
Below are just a few lodging possibilities in the general vicinity of Fishtrap Lake. There could be others. This list is provided as information only and does not imply that we recommend any particular location.
Which course should I sign up for?
Day 1 at Fishtrap Lake is a National Ranking Event (NRE) and also Event 6 (of 7) of the Ultimate Series.
If you do not care about NRE points or NRE awards, sign up for the course of your choice.
If you want to be eligible to earn Ultimate points, sign up for your Ultimate class.
If you want NRE points and to be eligible for NRE awards/medals for Saturday's race:
You must sign up for a course that has a qualifying age category for you. Your "orienteering age" is based on your year of birth, not your actual birthdate. For example, if you were born in the year 1987, your orienteering age is 35 for this entire year.
While everyone in a qualifying age class will receive national ranking points, you will only receive a national ranking for the year if you are an OUSA member.
If you are interested in ranking points and/or NRE awards, take a look at the table below and select the course that applies to your age class.
Course lengths are estimates. Final details will be provided as soon as they are available.
Course
Navigational
experience
NRE Ranking Class
Ultimate Class
White
(2.1k)
Beginner
F-10, F-12
M-10, M-12
Yellow
(2.4k)
Advanced Beginner
F-14, M-14
Orange
(2.6k)
Intermediate
F-16, M-16
F-16, M-16
Brown
(3.5k)
Advanced
F55+, F60+, F65+, F70+, F75+, F80+, F85+, F90+
M65+, M70+, M75+, M80+, M85+, M90+
F70+, M70+, F50+
Green
(4.0k)
Advanced
F-18, F-20, F35+, F40+, F45+, F50+
M-18, M50+, M55+, M60+
F-18, F-20
M-18, M50+
Red
(4.5k)
Advanced
F-21+
M-20, M35+, M40+, M45+
F-21+, M-20
Blue
(5.0k)
Advanced
M-21+
M-21+
How are courses measured?
Courses are measured as the crow flies, in a direct line from control to control. Unless you have wings, you will travel farther than this distance! Courses are measured in kilometers, so a good rule of thumb is to simply round up to miles to estimate how far you will go. So in a 5 kilometer race, you'll likely travel up to 5 miles.
Course Notes
Time limit: the time limit for all NRE classes is 2 hours.
Welcome to the PNWOF Middle Distance NRE at Fishtrap Lake. You can look forward to a technically challenging romp through the scablands of Fishtrap Lake.
Under our land use agreement with the Bureau of Land Management we are beholden to use pre-arranged control locations. As such, to get the technical challenge needed for an NRE and keep course distances within the OUSA guidelines for winning times, we have a remote Start for the Brown, Green, Red, and Blue courses (very remote).
Please prepare for a 2.2 km walk to the Start. Please allow 30-40 minutes for your walk. The Start is out on the 'South Loop Trail' which also serves as your allowable warm-up area (on trail only).
The finish is remote as well, but not as far away as the start. You will pass it on your way to the start.
Map Notes
The map scale for all courses is 1:10,000.
Some trails have faded, while others have been added.
Some areas of 'white' (open runnable forest) have fallen victim to fires in the area.  It will still be possible to discern that these areas were once indeed 'white.'
What this means is that the savvy competitor will primarily use contours and rock formations, as well as pace counting, for navigation.
The symbol for prominent bush is a small green circle. It may appear as a solid green dot on the map.
Furthermore, some areas shown as lighter green have become overgrown.
As of mid-May, water levels in the ponds/lakes on the map are on the lower side.  This gives you some additional access but be advised that if the grasses are green in low areas then the area will be very muddy/sticky.
Additional notes
There will not be water provided on-course (there will be water available at the start and finish).  Please consider bringing a hydration pack if you feel you may need water.
There are high cliffs, particularly along the lakeshore. Be very cautious near these cliffs. Runners should also be aware of animal holes in the ground.
The White, Yellow, and Orange courses require some fence crossing. These fences are not barbed wire. There are places marked on the map for recommended crossing.
There is a vault toilet in the parking area.
We hope you will enjoy this penultimate meet of the Pacific Northwest Orienteering Festival.
Chris Whitmyre and Patrick Kelly – course designers
SCHEDULE
9:00am-12:15am – Check-in
9:30am-12:30pm – Starts
2:30pm – courses close
3:00pm – awards
Why is there a start window?
This event uses an interval start, which means that participants are started in waves instead of all at once. When you arrive at the start tent, find the chute for your course and follow the start volunteer's instructions.
PRICES
What's an e-punch?
An e-punch records your race. At each control, you'll dip the e-punch into an electronic box, which will beep and flash as confirmation. After you finish, you'll download the e-punch at the download tent and get a receipt that show which controls you visited and how long you took between each; these are your "splits."
Part of the fun of orienteering is comparing your splits with people who completed the same course, and discussing the routes you took!
SIGN UP
Volunteers make these events happen! You can volunteer and participate on the same day, plus earn volunteer points to earn a free meet.
PARKING
There is parking by the event staging area, where the restroom is also located. The parking is somewhat limited but if we park close to the next car, there should be enough spots. Please do not camp in the parking lot.
THE MAP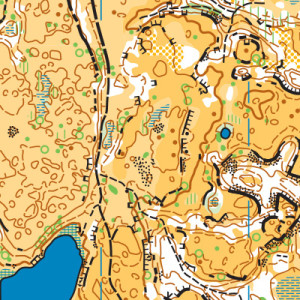 Featuring unique scabland terrain, Fishtrap Lake is challenging, yet accessible, and a complete joy to navigate. On one hand, there are tons of tiny cliffs and rock details. On the other hand, there are so few trees here, that the views are expansive, allowing you to orient yourself off of faraway cliffs. Fishtrap also provides a perfect opportunity to test compass skills, since there is little to stop you from beelining straight to the next control.
Read more on the map page
EMERGENCY/FIRST AID
If you have a medical emergency, call 911. Cell reception is not guaranteed at the event site. You may have to drive 4 or 5 miles north to get reception.
Closest emergency facility
Providence Holy Family Hospital (37 miles)
5633 Lidgerwood St
Spokane WA 99208
509.482.0111
emergency room open 24/7
SAFETY & ETIQUETTE
Return to the Finish
All participants MUST return to the finish and download their e-punch or turn in their punch card.
Even if you have not finished your course, you must still return to the the finish and confirm with event staff that you have returned safely.
Out of Bounds
Some areas may be marked out of bounds. It is imperative to respect these boundaries to maintain our relationships with land managers. Participants MUST NOT go out of bounds. Any participant caught going out of bounds will be disqualified.
Course Closure
All participants MUST return to the finish by course closure time. If a participant does not return by course closure, event volunteers will begin coordinating a search party.
If you need a long time on the course, start as early in the start window as possible, wear a watch, and be prepared to cut your course short to make it back by the course closure time.
Whistle
All participants MUST carry a whistle on the course. Complimentary whistles are available at the start tent (please only take one).
If you are injured on the course and need assistance, blow three long blasts to call for help.
If you hear a call for help, abandon your course to find the person in distress.
Voices
Part of the fun and fairness of orienteering is navigating your own course, so please be polite when you find a checkpoint and don't holler that you've found it.