2022 Ultimate Orienteer #4 – Dickey Creek (Score-O)
---
Parking at Dickey Creek is limited, so please carpool! Either carpool from home or check out the suggested meeting places below.
START TIMES
We've pushed back the start times a bit to give the course setters more time to set out controls in the morning. Mass starts are now:
10:00 – 3-hour participants
10:15 – 2-hour participants
10:30 – 1-hour participants
COVID-19
We are not asking you to complete a COVID Assessment Form for this event but please take the following precautions during the event.
You don't need to wear a mask at our events if you are vaccinated, but mask wearing is encouraged in congested areas or if you are not vaccinated and near others
Please stay home if you are sick; we'll happily refund your entry fee if you have tested positive for COVID-19
Keep a six foot distance from others when it is practical, or at least avoid being in close proximity for a long time in still air
Limit touching of shared surfaces and items, and clean your hands before and after
Thank you for helping us keep our events safe and fun for you and everyone else!
---
Teanaway Weekend – Day 1
Join us for a weekend of orienteering near Cle Elum! We'll start the weekend with a brand new map and venue: Dickey Creek!
The base was generated by John Brady, with minimal fieldwork by John, Dave Tallent, Jackson Rupe, and Chris Cooper. It's a great area but don't expect an IOF-standard map.
Saturday, May 14 – Dickey Creek Score-O format
Camping/Lodging
There's free camping near Teanaway and a selection of hotels in Cle Elum.
Other things to do
See Discover Cle Elum for information about things to do in and near Cle Elum.
There will be pre-registration only, no day-of registration.
COURSES
Course designer(s): Dave Tallent, John Brady
An event with a mass start, each control on a Score-O course is worth a specified number of points. Generally, the more difficult controls (because of their navigational difficulty or distance) are worth more points than easier controls. Competitors collect as many points as possible within a specified time limit. Point penalties are assessed for those returning after the time limit.
Careful course planning, keeping your eye on the clock, and staying located are all keys to success in Score-O. Even experts may have trouble visiting every control in the given time limit. Pick a route that best uses your time: maybe that means maximizing points in a short distance, or maybe you want to explore a new area and visit some controls along the way; it's up to you! All classes will use the same map with the same controls, but the max time limits range from 60 to 180 minutes, depending on the category you choose.
Preliminary categories (times may be adjusted based on terrain).
Short – 60 minutes
Medium – 120 minutes
Long – 180 minutes
Score-O Course/Class Assignments for Ultimate points
If you want to earn Ultimate points, check the table below to see which category you should sign up for. Find your age class in the left column, then follow the row across to the right until you find the dark orange cell. That is your "assigned" category.
For example, if you're a female 16 or under, your Ultimate age class is F-16 and, for this event, is assigned to the Short course. If you are up for a more challenging course, you can also earn points in F-18 on the Medium course, or F-21+ on the Long course. Just keep in mind that other courses are more difficult, both navigationally and physically.  Also keep in mind that you'll be earning points only in the class you sign up for.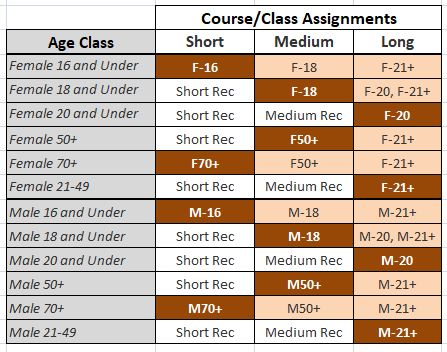 How are courses measured?
Courses are measured as the crow flies, in a direct line from control to control. Unless you have wings, you will travel farther than this distance! Courses are measured in kilometers, so a good rule of thumb is to simply round up to miles to estimate how far you will go. So in a 5 kilometer race, you'll likely travel up to 5 miles.
COURSE NOTES
Check back later for special notes from the Course Designer(s).
SCHEDULE
Pre-registration only!
We will NOT have day-of-race registration, so make sure you register before the deadline.
8:30-9:45 – Check-in
10:00 – map handout, 3-hour
10:05 – course planning, 3-hour
10:10 – mass start, 3-hour
10:15 – map handout, 2-hour
10:20 – course planning, 2-hour
10:25 – mass start, 2-hour
10:30m – map handout, 1-hour
10:35 – course planning, 1-hour
10:40 – mass start, 1-hour
1:30 – Courses close*
*Wear a watch to ensure that you return to the finish by course closure time, even if you have to abandon your course to do so. Those returning after course closure will be disqualified and will make the volunteer staff very grumpy.
PRICES
Pre-registration only!
$22 base price
– subtract $5 for CascadeOC members
– subtract $5 for using your own e-punch
-running as a group? Add $5 for each additional adult (16+) group member, no charge for additional children. Max group size is 3 due to COVID restrictions.
Become a member here.
What's an e-punch?
An e-punch records your race. At each control, you'll dip the e-punch into an electronic box, which will beep and flash as confirmation. After you finish, you'll download the e-punch at the download tent and get a receipt that show which controls you visited and how long you took between each; these are your "splits."
Part of the fun of orienteering is comparing your splits with people who completed the same course, and discussing the routes you took!
SIGN UP
Volunteers make these events happen! You can volunteer and participate on the same day, plus earn volunteer points to earn a free meet.
PARKING – PLEASE CARPOOL
Parking is at the Dickey Creek Trailhead. Parking is limited, so please carpool if you are able. If you can't carpool from home, you can meet others at either Teanaway Forks (the most parking) or Twentynine Pines Campground and drive together from there. Parking volunteers will let you know where to park once you get to Dickey Creek.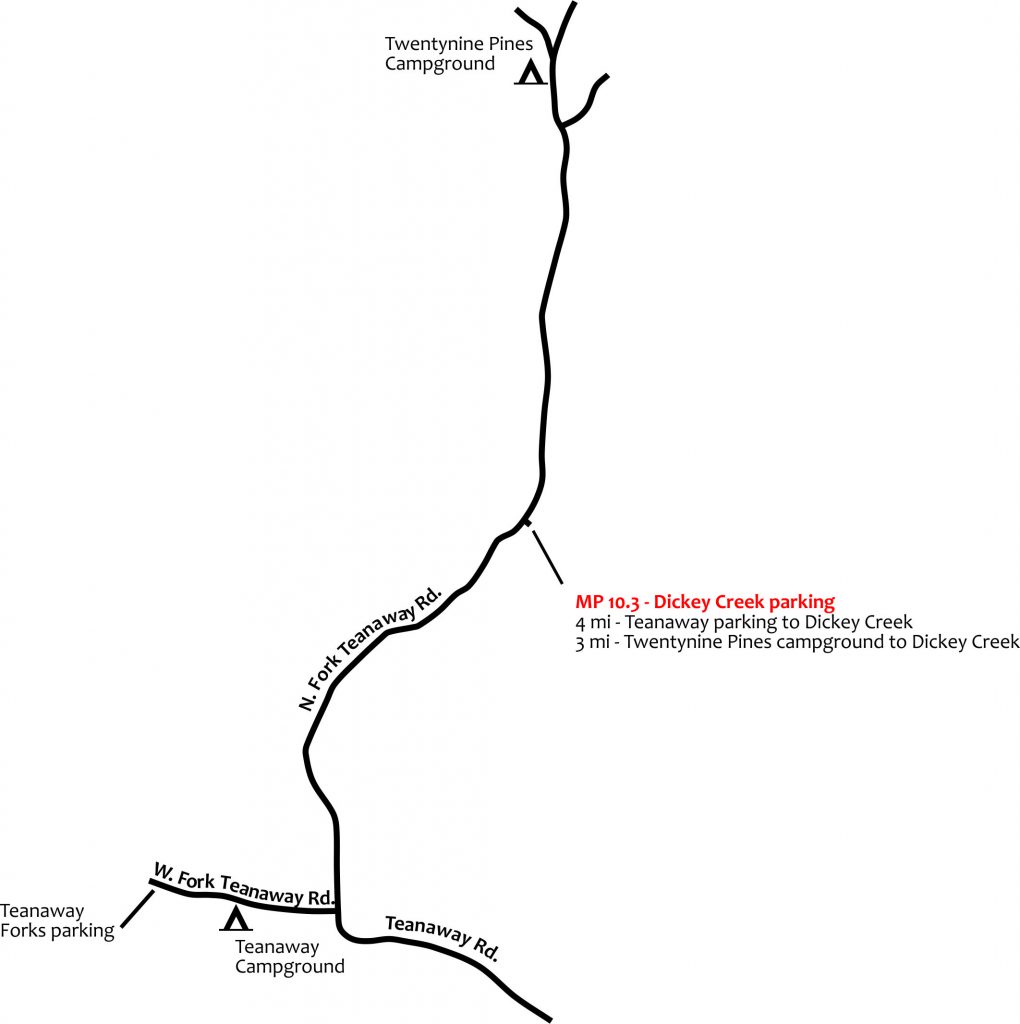 Discover Pass Required
This venue is part of the Teanaway Community Forest and you will need a Discover Pass to park. You can purchase a Discover Pass (annual or one-day) online or in person at many hunting/fishing license vendors or at several retail locations. Check the Discover Pass website for details.
THE MAP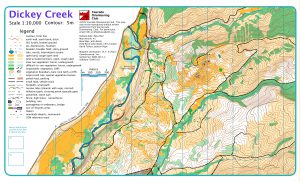 Part of a chain of orienteering maps in the Teanaway Community Forest, Dickey Creek is rugged, challenging, and beautiful. There is a ton of contour detail and large areas without trails, making this one of Cascade's most challenging and rewarding maps to navigate. Vegetation becomes quickly outdated here, so do not rely on vegetation alone; contours are your best friend!
New orienteers should consider choosing a shorter or easier course than usual.
Read more on the map page
EMERGENCY/FIRST AID
If you have a medical emergency, call 911. Cell reception is not guaranteed at the event site. You may have to drive 4 or 5 miles to get reception.
Closest emergency facility
Kittitas Valley Health Care (Level IV Trauma Center, 30 miles)
603 S. Chestnut Street
Ellensburg WA 98926
509.962.9841
emergency open 24/7
KVH Urgent Care (non-emergency care, 16 miles)
214 W. 1st Street
Cle Elum WA 98922
509.674.6944
open 10am-10pm daily
SAFETY & ETIQUETTE
Return to the Finish
All participants MUST return to the finish and download their e-punch or turn in their punch card.
Even if you have not finished your course, you must still return to the the finish and confirm with event staff that you have returned safely.
Out of Bounds
Some areas may be marked out of bounds. It is imperative to respect these boundaries to maintain our relationships with land managers. Participants MUST NOT go out of bounds. Any participant caught going out of bounds will be disqualified.
Course Closure
All participants MUST return to the finish by course closure time. If a participant does not return by course closure, event volunteers will begin coordinating a search party.
If you need a long time on the course, start as early in the start window as possible, wear a watch, and be prepared to cut your course short to make it back by the course closure time.
Whistle
All participants MUST carry a whistle on the course. Complimentary whistles are available at the start tent (please only take one).
If you are injured on the course and need assistance, blow three long blasts to call for help.
If you hear a call for help, abandon your course to find the person in distress.
Voices
Part of the fun and fairness of orienteering is navigating your own course, so please be polite when you find a checkpoint and don't holler that you've found it.