2022 Ultimate Orienteer #3 – Ft Steilacoom (Motala)
---
Meet Documents:
Online pre-registration closes Wed 4/20/2022 9:00 PM.
Here is the COVID Health Check form. Please fill it out as soon as possible and at the latest by Friday 7 pm before the event. 
---
Team up with yourself for Ultimate Series #3, an Individual Relay at Ft. Steilacoom Park. Depending on your course, you'll do 2 or 3 legs, picking up a different map each time through the exchange area.
COVID Operating Protocols
If you sign up for this event, you will be asked to read and agree to follow our COVID Operating Protocols. Our use permits are contingent on our ability to demonstrate that we can hold safe events, so we thank you in advance for helping us make this happen.
Please check back later for more information.
There will be pre-registration only, no day-of registration.
COURSES
Course designer(s): Peter Golde
Beginner: 2 loops: 1.5k/5c + 1.5k/5c  = 3.0k, 10c, <10m climb
Intermediate: 2 loops: 2.6k/7c + 2.3k/6c = 4.8k, 13c, <20m climb
Short Advanced: 3 loops: 2.3k/7c + 2.4k/7c + 1.5k/5c = 6.3k, 19c, ~40m climb
Long Advanced: 3 loops: 2.9k/8c + 2.8k/9c + 3.2k/9c = 9.0k, 26c, ~80m climb
Individual Relay (Motala) Course/Class Assignments for Ultimate points
If you want to earn Ultimate points, check the table below to see which category you should sign up for. Find your age class in the left column, then follow the row across to the right until you find the dark orange cell. That is your "assigned" category.
For example, if you're a female 16 or under, your Ultimate age class is F-16 and, for this event, is assigned to the Intermediate course. If you are up for a more challenging course, you can also earn points in F-18 on the Short Advanced course, or F-20 or F-21+ on the Long Advanced course. Just keep in mind that other courses are more difficult, both navigationally and physically.  Also keep in mind that you'll be earning points only in the class you sign up for.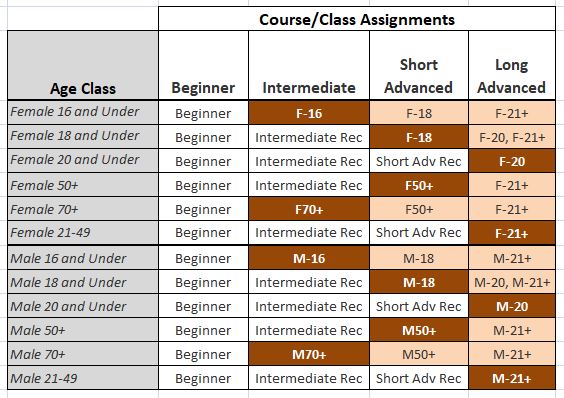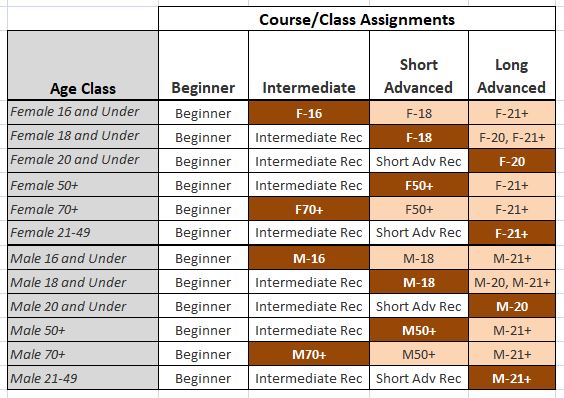 How are courses measured?
Courses are measured as the crow flies, in a direct line from control to control. Unless you have wings, you will travel farther than this distance! Courses are measured in kilometers, so a good rule of thumb is to simply round up to miles to estimate how far you will go. So in a 5 kilometer race, you'll likely travel up to 5 miles.
COURSE NOTES
Yes, the distances are quite a bit longer than normal! However, these courses have been set to be very flat, open, and fast (long advanced has one steep uphill climb, however). Along with the mass start, I expect very fast per-K times. The park hasn't changed much since we last used it, and the courses for the most stick to the flattish open grassland with scattered trees. There is the occasional blackberry vine, though, so if you don't have leg cover you could get a nasty scratch or two. There is a building under construction in the campus area that is marked with the usual purple hatching.
Navigation tips: unlike some maps, there is a very distinct difference between open, rough open, and rough open with scattered trees; this can help while navigating. The form lines also are quite accurate and helpful in the flat parts.
All courses are a "motala" – a single-person race comprised of multiple loops. Beginning and Intermediate have two loops, A and B. Short and Long Advanced have three loops each, A, B, and C. When you check in, you will be given a loop order that you will run, for example, BCA or CAB. Remember your loop order so that you run your loops correctly! You might want to bring some clear tape to combine your course descriptions in the correct order.
Everyone on a particular course will begin at the same time in a mass start. Once you finish your first loop, punch the transition control in the start/finish/map area, drop your first loop map, take the CORRECT map for your next loop, and go!
Be sure to be on time to make the start.
SCHEDULE
Pre-registration only!
9:00-10:00 am – Check-in
9:00-10:00 am – Newcomer instruction
10:15 – Pre-race info and transition demo
10:27 am – Long Advanced to start line
10:30 am – Mass Start for Long Advanced
10:32 am – Short Advanced to start line
10:35 am – Mass Start for Short Advanced
10:37 am – Intermediate and Beginner to start line
10:40 am – Mass Start for Intermediate and Beginner
1:30 pm – Courses close*
*Wear a watch to ensure that you return to the finish by course closure time, even if you have to abandon your course to do so. Those returning after course closure will be disqualified and will make the volunteer staff very grumpy.
Why is there a start window?
This event uses an interval start, which means that participants are started in waves instead of all at once. When you arrive at the start tent, find the chute for your course and follow the start volunteer's instructions.
PRICES
Pre-registration only!
$22 base price
– subtract $5 for CascadeOC members
– subtract $5 for using your own e-punch
-running as a group? Add $5 for each additional adult (16+) group member, no charge for additional children. Max group size is 3 due to COVID restrictions.
Become a member here.
What's an e-punch?
An e-punch records your race. At each control, you'll dip the e-punch into an electronic box, which will beep and flash as confirmation. After you finish, you'll download the e-punch at the download tent and get a receipt that show which controls you visited and how long you took between each; these are your "splits."
Part of the fun of orienteering is comparing your splits with people who completed the same course, and discussing the routes you took!
SIGN UP
Volunteers make these events happen! You can volunteer and participate on the same day, plus earn volunteer points to earn a free meet.
PARKING
We do not have a designated parking lot for this event so use any lot, but please avoid parking in the lot by the playground if you can avoid it to let families with children park close to the playground. There is one lot just west of the shelter where we will stage the event and there is a big lot by the dog park in the intersection of Dresden LN SW and Angle LN SW.
RESTROOMS
There are restrooms by the playground close to the shelter where we stage the event and by the dog park in the intersection of Dresden LN SW and Angle LN SW.
THE MAP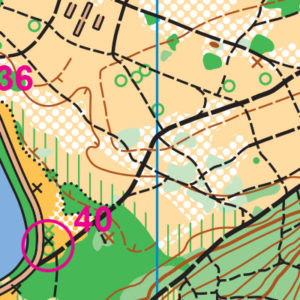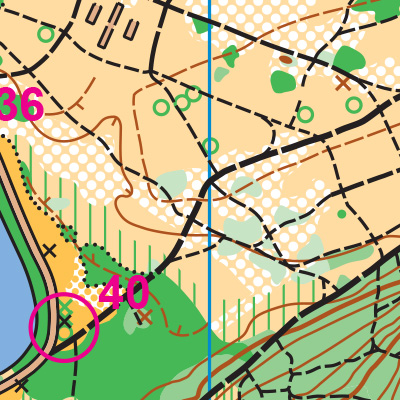 While Fort Steilacoom is not rugged or remote, it can be fairly challenging for a city park. There are many criss-crossing trails here, both in open grass and in forest. However, there are also many distinct features such as buildings, roads, ballfields, and a small lake, that are great navigational aids.
Part of the park is very flat, while part of the park is quite steep. How steep your course is depends on which course you choose and how nice the course designer decided to be.
Read more on the map page
SAFETY & ETIQUETTE
Return to the Finish
All participants MUST return to the finish and download their e-punch or turn in their punch card.
Even if you have not finished your course, you must still return to the the finish and confirm with event staff that you have returned safely.
Out of Bounds
Some areas may be marked out of bounds. It is imperative to respect these boundaries to maintain our relationships with land managers. Participants MUST NOT go out of bounds. Any participant caught going out of bounds will be disqualified.
Course Closure
All participants MUST return to the finish by course closure time. If a participant does not return by course closure, event volunteers will begin coordinating a search party.
If you need a long time on the course, start as early in the start window as possible, wear a watch, and be prepared to cut your course short to make it back by the course closure time.
Whistle
All participants MUST carry a whistle on the course. Complimentary whistles are available at the start tent (please only take one).
If you are injured on the course and need assistance, blow three long blasts to call for help.
If you hear a call for help, abandon your course to find the person in distress.
Voices
Part of the fun and fairness of orienteering is navigating your own course, so please be polite when you find a checkpoint and don't holler that you've found it.