2019 Ultimate Orienteer #4 – Bridle Trails (Score)
---
Careful course planning, keeping your eye on the clock, and staying located are all keys to success in Score-O. Even experts may have trouble visiting every control in the given time limit. Pick a route that best uses your time: maybe that means maximizing points in a short distance, or maybe you want to explore a new area and visit some controls along the way; it's up to you! All classes will use the same map with the same controls, but the max time limits will 60 or 90 minutes, depending on the category you choose (see below for options).
PLEASE pre-register online if you plan to go to this event so we can get a better map count. Since there is a mass start, we cannot reuse the maps.
COURSES
Course designer(s): Ing Uhlin, Carl Walsh
We'll have lots of controls set out, with varying point values and a couple of different time limits available. Your job is to get as many as possible within the time limit for your class, maximizing your points.
Below are the time limits and Ultimate class assignments.
90 minutes – Recreational (solo or group) – take your time to explore this beautiful urban park
60 minutes (group and all Ultimate classes)
How are courses measured?
Courses are measured as the crow flies, in a direct line from control to control. Unless you have wings, you will travel farther than this distance! Courses are measured in kilometers, so a good rule of thumb is to simply round up to miles to estimate how far you will go. So in a 5 kilometer race, you'll likely travel up to 5 miles.
Course Notes
The controls will have varying point values to add to the strategy for maximizing your total points. The control code indicates the point value of a control. For example, controls 131-139 are worth 30 points, controls 141-149 are worth 40 points, etc. Controls 101-102 are worth 100 points.
There are two time limits, 60 minutes and 90 minutes. Maps will be handed out right before the mass start and the route planning is part of the run time.
Route planning
You'll only have 2 minutes to plan your route, so check the schedule and make sure you're on time. Bring something to keep track of time and also a pen or highlighter to plan your route.
Penalty
There is a deduction of 20 points for every minute (or partial minute) that you return past the time limit.
SCHEDULE
9:00-10:00 am – Registration
9:00-10:00 am – newcomer instruction
10:20 am – pre-race instructions
10:25 am – map handout
10:30 am – course planning
10:32 am – mass start for all
12:02 pm – courses close
PRICES
PRE-REGISTERED
| | | |
| --- | --- | --- |
| | Non club member | Club member |
| Using COC epunch |  $17 |  $12 |
| Using your epunch |  $12 |  $7 |
DAY-OF REGISTRATION
| | | |
| --- | --- | --- |
| | Non club member | Club member |
| Using COC epunch |  $20 |  $15 |
| Using your epunch |  $15 |  $10 |
What's an e-punch?
An e-punch records your race. At each control, you'll dip the e-punch into an electronic box, which will beep and flash as confirmation. After you finish, you'll download the e-punch at the download tent and get a receipt that show which controls you visited and how long you took between each; these are your "splits."
Part of the fun of orienteering is comparing your splits with people who completed the same course, and discussing the routes you took!
SIGN UP
Online pre-registration closes Thursday, April 4 at 9:00 pm
Day-of-event registration is available by cash or check, made payable to Cascade Orienteering Club
Volunteers make these events happen! You can volunteer and participate on the same day, plus earn volunteer points to earn a free meet.
PARKING
Bridle Trails is a state park, so you'll need a Discover Pass to park.
THE MAP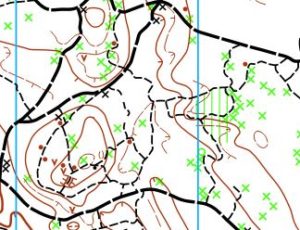 Bridle trails is an on-trail-only venue, with chest-deep salal on both sides and rumors of some old wells and pits in the underbrush. But it makes up for this navigational limitation by having an intricate network of trails that make it a perfect place to practice a range of skills:
Feature recognition (What is the shape of this trail?)
Compass use (Which way does this trail go?)
Pace counting (Should I be expecting an intersection soon?)
Contours (Is this trail supposed to be going down or up?)
Navigationally, this is a 1:10,000 map of three levels of trail network and a wide power line strip through the center. It is bounded on the outer edge by a series of perimeter trails that border roads, with a center of activity on the west side.
NOTE: Bridle Trails is a horse-focused park. If a horse is on course and need to approach, slow down and make your presence known verbally to keep the horse from spooking. The animals may be bigger than you, but you're a lot scarier than they are!
Read more on the map page
SAFETY & ETIQUETTE
Return to the Finish
All participants MUST return to the finish and download their e-punch or turn in their punch card.
Even if you have not finished your course, you must still return to the the finish and confirm with event staff that you have returned safely.
Out of Bounds
Some areas may be marked out of bounds. It is imperative to respect these boundaries to maintain our relationships with land managers. Participants MUST NOT go out of bounds. Any participant caught going out of bounds will be disqualified.
Course Closure
All participants MUST return to the finish by course closure time. If a participant does not return by course closure, event volunteers will begin coordinating a search party.
If you need a long time on the course, start as early in the start window as possible, wear a watch, and be prepared to cut your course short to make it back by the course closure time.
Whistle
All participants MUST carry a whistle on the course. Complimentary whistles are available at the start tent (please only take one).
If you are injured on the course and need assistance, blow three long blasts to call for help.
If you hear a call for help, abandon your course to find the person in distress.
Voices
Part of the fun and fairness of orienteering is navigating your own course, so please be polite when you find a checkpoint and don't holler that you've found it.