2019 Ultimate Orienteer #1 – Lynndale Park (Night)
---
Orienteering in the dark! The 1st event in the 2019 Ultimate Series is Night-O at Lynndale Park in Lynnwood. Get out your headlamps and join us for this fun event! There will be three courses: Beginner, Intermediate, and Advanced. The Ultimate Orienteer classes will be on the Advanced course.
COURSES
Course designer(s): Will Enger
Course distances, number of controls, and climb:
Beginner – 1.1 km, 10 controls, 35 m
Intermediate – 2.0 km, 16 controls, 90 m
Advanced (all Ultimate classes) – 3.0 km, 22 controls, 110 m
How are courses measured?
Courses are measured as the crow flies, in a direct line from control to control. Unless you have wings, you will travel farther than this distance! Courses are measured in kilometers, so a good rule of thumb is to simply round up to miles to estimate how far you will go. So in a 5 kilometer race, you'll likely travel up to 5 miles.
COURSE NOTES
Welcome to Cascade's only night orienteering event of the year! Navigating in the dark is an entirely different experience than normal daytime orienteering; even relatively "easy" venues with lots of trails and features can become a difficult challenge when seen only through the precarious, fleeting light of your own headlamp (or flashlight). Lynndale Park is no exception to this – at night the tangles of winding trails through thickly wooded areas will require a much higher degree of concentration and precision to successfully negotiate. At the same time, however, you will rarely be farther than a stone's throw from a road, open area, or large trail which can be counted on for relocation. This makes Lynndale an excellent venue for beginners while also providing a suitably enjoyable and challenging nighttime experience for the seasoned orienteer.
The Lynndale Park map is an ISSOM ("sprint") map, and as such the courses will have the look, feel, and distance of sprint courses. However, as you might guess you should expect to spend more time on the course than you normally would for the average daytime park sprint. Most controls will be located on or near trails, but there are places where a few of the smaller trails are being encroached upon by blackberry or other unfriendly vegetation. As such, leg covering is recommended.
One note on safety – as of Tuesday evening there were, improbably, still a few lingering patches of snow and/or ice scattered throughout the more sun-starved hillsides and vales of the park, so please do watch your footing.
Enjoy!
Will Enger
SCHEDULE
6:30-8:00 pm – Registration
6:30-7:30 pm – Newcomer instruction
7:00-8:30 pm – Start
9:15 pm – Courses close
Why is there a start window?
This event uses an interval start, which means that participants are started in waves instead of all at once. When you arrive at the start tent, find the chute for your course and follow the start volunteer's instructions.
PRICES
PRE-REGISTERED
| | | |
| --- | --- | --- |
| | Non club member | Club member |
| Using COC epunch |  $17 |  $12 |
| Using your epunch |  $12 |  $7 |
DAY-OF REGISTRATION
| | | |
| --- | --- | --- |
| | Non club member | Club member |
| Using COC epunch |  $20 |  $15 |
| Using your epunch |  $15 |  $10 |
What's an e-punch?
An e-punch records your race. At each control, you'll dip the e-punch into an electronic box, which will beep and flash as confirmation. After you finish, you'll download the e-punch at the download tent and get a receipt that show which controls you visited and how long you took between each; these are your "splits."
Part of the fun of orienteering is comparing your splits with people who completed the same course, and discussing the routes you took!
SIGN UP
Online pre-registration closes Thursday, March 7 at 9:00 pm
Day-of-event registration is available by cash or check, made payable to Cascade Orienteering Club
Volunteers make these events happen! You can volunteer and participate on the same day, plus earn volunteer points to earn a free meet.
PARKING
Parking is available at the park.
THE MAP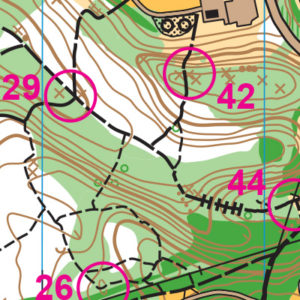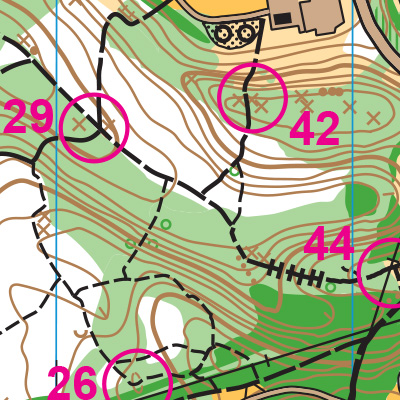 Lynndale Park is a 1:4,000-scale map with a lot happening in it. You'll find rolling hills, runnable forest, and a complex trail network bounded by open areas with buildings. This is where the school league training is held each fall.
Read more on the map page
SAFETY & ETIQUETTE
Return to the Finish
All participants MUST return to the finish and download their e-punch or turn in their punch card.
Even if you have not finished your course, you must still return to the the finish and confirm with event staff that you have returned safely.
Out of Bounds
Some areas may be marked out of bounds. It is imperative to respect these boundaries to maintain our relationships with land managers. Participants MUST NOT go out of bounds. Any participant caught going out of bounds will be disqualified.
Course Closure
All participants MUST return to the finish by course closure time. If a participant does not return by course closure, event volunteers will begin coordinating a search party.
If you need a long time on the course, start as early in the start window as possible, wear a watch, and be prepared to cut your course short to make it back by the course closure time.
Whistle
All participants MUST carry a whistle on the course. Complimentary whistles are available at the start tent (please only take one).
If you are injured on the course and need assistance, blow three long blasts to call for help.
If you hear a call for help, abandon your course to find the person in distress.
Voices
Part of the fun and fairness of orienteering is navigating your own course, so please be polite when you find a checkpoint and don't holler that you've found it.