Ultimate Orienteer #6 – Frenchman Spring (Goat)
---
---
Pending land use permission
Frenchman Doubleheader – Part 2
Come on out for our second doubleheader weekend in the 2020 Ultimate Orienteer Series in the legendary Frenchman Coulee/Spring area. It might seem far but we go where the terrain is fabulous! We're mixing it up this time:
For this event, we'll offer four long-distance courses with a twist: skip 1 or 2 controls (depending on which course you do) of your choice. We'll also have a beginner course.
Find out more about Goat events!
Skipped Controls
As is often the case in a Goat event, you are permitted to skip one or more non-consecutive controls, depending on which course you do. The following is permitted.
Zygoat – 1 skip
Kid – 2 skips (non-consecutive controls)
Ibex – 2 skips (non-consecutive controls)
Goat – 2 skips (non-consecutive controls)
PLEASE pre-register online if possible so we can get a more accurate map count. Since these are mass starts, we cannot reuse the maps.
COURSES
Course designer(s):
Course distances will be provided here once the courses are finalized.
Beginner
Zygoat
Kid
Ibex
Goat
Classic-O Course/Class Assignments for Ultimate points
If you want to earn Ultimate points, check the table below to see which category you should sign up for. Find your age class in the left column, then follow the row across to the right until you find the dark orange cell. That is your "assigned" category.
For example, if you're a female 16 or under, your Ultimate age class is F-16 and, for this event, is assigned to the Zygoat course. If you are up for a more challenging course, you can also earn points in F-18 on the Kid, or F-21+ on the Ibexe. Just keep in mind that other courses are more difficult, both navigationally and physically.  Also keep in mind that you'll be earning points only in the class you sign up for.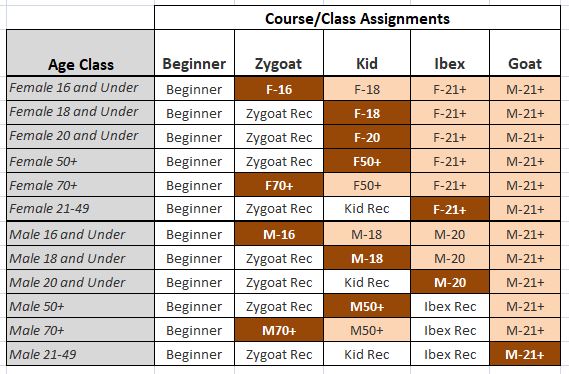 How are courses measured?
Courses are measured as the crow flies, in a direct line from control to control. Unless you have wings, you will travel farther than this distance! Courses are measured in kilometers, so a good rule of thumb is to simply round up to miles to estimate how far you will go. So in a 5 kilometer race, you'll likely travel up to 5 miles.
COURSE NOTES
Check back later for special notes from the Course Designer(s). View courses from a past event on this map on Route Gadget here.
Tread lightly
Tread lightly on the land: if the ground is wet, avoid leaving footprints by staying on rocks where possible, not disturbing any rock features such as piles, stacks or cairns, avoiding cactus, and brushing off pants to remove plant seeds before leaving the course.
Sensitive Plant
Snowball cactus (Pediocactus nigrispinus) grows in this area. It's been designated a sensitive species, so if you see any, please avoid stepping on or near it.
SCHEDULE
8:00-8:45 am – Registration
8:00-8:30 am – Newcomer instruction
8:50 am – map handout, Goat/Ibex (no peeking)
9:00 am – Goat/Ibex mass start
9:05 am – map handout, Kid/Zygoat (no peeking)
9:15 am – Kid/Zygoat mass start
9:30-11:30 – Beginner course open
2:30 pm – Courses close (return to Download by this time to avoid disqualification)*
*If you think you might take a long time on the course, consider doing a shorter course. Also, wear a watch to ensure that you return to the finish by course closure time, even if you have to abandon your course to do so. Those returning after course closure will be disqualified and will make the volunteer staff very grumpy.
PRICES
Note: To cover additional permitting costs associated with this event, fees are slightly higher (+ $5) than our Seattle-area events.
PRE-REGISTRATION PRICES
$22 base price
– subtract $5 for CascadeOC members
– subtract $5 for using your own e-punch
DAY-OF-EVENT REGISTRATION
$25 base price
– subtract $5 for CascadeOC members
– subtract $5 for using your own e-punch
What's an e-punch?
An e-punch records your race. At each control, you'll dip the e-punch into an electronic box, which will beep and flash as confirmation. After you finish, you'll download the e-punch at the download tent and get a receipt that show which controls you visited and how long you took between each; these are your "splits."
Part of the fun of orienteering is comparing your splits with people who completed the same course, and discussing the routes you took!
SIGN UP
Online pre-registration closes:
Day-of-event registration is available by cash or check, made payable to Cascade Orienteering Club
Volunteers make these events happen! You can volunteer and participate on the same day, plus earn volunteer points to earn a free meet.
PARKING
Discover Pass Required
You will need a Discover Pass to park at Frenchman Spring (and at the boat launch). You can purchase a Discover Pass (annual or one-day) online or in person at many hunting/fishing license vendors or at several retail locations. Check the Discover Pass website for details.
Carpool Meeting Place
Parking will be on the northwest shoulder of Vantage Road SW near the (very small) Babcock Bench parking area (reserved for event officials). We are limited to 30 cars along this road, so please carpool if you can.
We suggest you arrange to meet others at the boat launch parking area at the west end of Vantage Road SW and then take one car back up the hill to park near the event center. It's slightly less than 2 miles one way, so you could also bike or even walk if necessary.
Please DON'T park at the Frenchman Coulee climbing area, as we don't want to take parking places from the climbers. There's room for quite a few cars at the boat launch.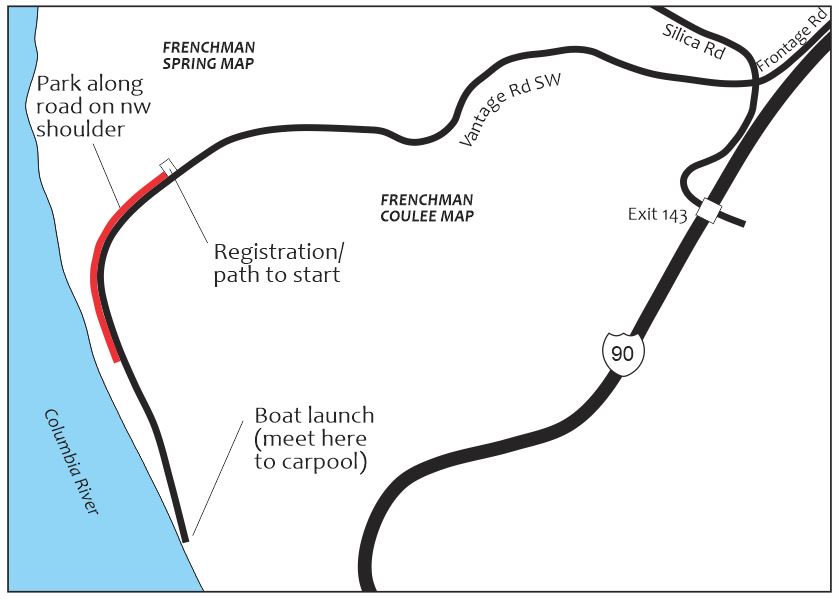 THE MAP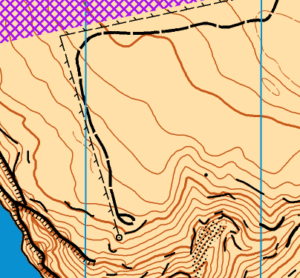 The Frenchman Spring map is owned and maintained by Forest Runs. They have generously allowed us to use it for some of our events.
The Frenchman Spring venue contains a lot of rocky features.  A number of decisions have been made about what and how to map.
International Specifications for Orienteering Maps 2017 symbols are used.
Vegetation is mapped in a limited fashion:

The only vegetation that limits running in any way is sage bush – still growing or burnt leftovers – and similar semi-desert plants. They are mapped with green vertical stripes – undergrowth, slower running symbol – in locations where the impact is larger.
There are several more distinct trees mapped with the green dot symbol.

In general, only distinct objects are mapped. A 1-meter-high boulder is mapped if it is in a gravelly area, but not if it lies between other larger boulders.  In a similar fashion, we don't mark 209 Boulder field or 210 Stony ground in a context where these make the map too hard to read.  In contrast, most of the 418 Prominent bush or tree are prominent only in the Frenchman Spring context.
Uncrossable cliff usually means very uncrossable. Please respect that and do not go too close to it.
Ground covered with little to no vegetation while still allowing near full speed running is mapped as 214 Bare rock.  Unlike in many other venues, bare rock in Frenchman Spring is not necessarily a smooth cliff face but may instead resemble a pile of rocks.  For instance, in the photo below, the foreground is mapped as "bare rock."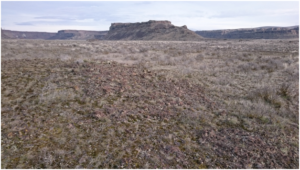 Rocky ground may be similar to bare rock, just less smooth and making running slower.  Below is a few meters high hillside, mapped as 210 Stony ground, slow running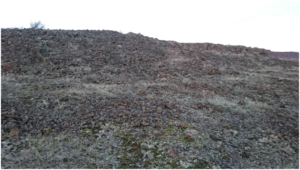 As basalt breaks into fragments of widely different sizes over time, so most of the boulders are in some sense just piles of rocks.  This is a 1-meter-high rocky thing, mapped as 204 Boulder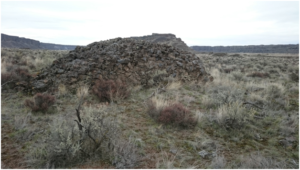 Similar objects that look less rocky may be mapped as knolls.  The one in the following photo is 109 Small knoll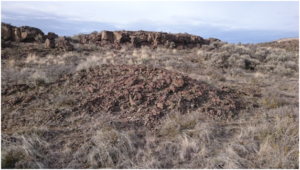 Read more on the map page
SAFETY & ETIQUETTE
Return to the Finish
All participants MUST return to the finish and download their e-punch or turn in their punch card.
Even if you have not finished your course, you must still return to the the finish and confirm with event staff that you have returned safely.
Out of Bounds
Some areas may be marked out of bounds. It is imperative to respect these boundaries to maintain our relationships with land managers. Participants MUST NOT go out of bounds. Any participant caught going out of bounds will be disqualified.
Course Closure
All participants MUST return to the finish by course closure time. If a participant does not return by course closure, event volunteers will begin coordinating a search party.
If you need a long time on the course, start as early in the start window as possible, wear a watch, and be prepared to cut your course short to make it back by the course closure time.
Whistle
All participants MUST carry a whistle on the course. Complimentary whistles are available at the start tent (please only take one).
If you are injured on the course and need assistance, blow three long blasts to call for help.
If you hear a call for help, abandon your course to find the person in distress.
Voices
Part of the fun and fairness of orienteering is navigating your own course, so please be polite when you find a checkpoint and don't holler that you've found it.