2019 Ultimate Orienteer #9 – Fishtrap Lake (Ultralong)
---
Double Header
Our 3rd full weekend of orienteering in this year's Ultimate Series!
The Season Finale (UO #9) will be an Ultralong Distance event at Fishtrap Lake, following the Classic Distance event at Riverside State Park in Spokane the day before organized by EWOC.
Terrain
Experience the unique scabland terrain of Fishtrap Lake, where the vistas are expansive but details are plentiful. There are few trails in this area, so you'll  appreciate the plethora of contour and rock details as you traverse this beautiful desert area. June is a great time of year for wildflowers here, so you might want to take a moment to enjoy them.
Out of Bounds areas
Most of the area we're using belongs to the Bureau of Land Management. They have identified several sensitive areas, which are out of bounds for our competition. These areas are clearly marked on the map with vertical purple lines. The courses have been designed to avoid them, so make sure your route choice does not include travel through ANY out of bounds areas!
Mountain Biking
Mountain biking is only allowed for control pickup, so if you want to ride your bike, please volunteer to pick up controls after the event is over.
Dogs
Per our permit agreement with the BLM, your dog is not allowed to accompany you on the course. Please respect this restriction.
Camping
Camping areas near Fishtrap:
Lodging possibilities
Below are just a few lodging possibilities in the general vicinity of Fishtrap Lake. There could be others. This list is provided as information only and does not imply that we recommend any particular location.
COURSES
Course designer(s): Ethan O'Connor
Course distances will be provided here once the courses are finalized. Estimated lengths are provided in the interim.
Beginner – 1-2k
Intermediate – 3-4k
Short Advanced (Ultimate Masters; Ultimate Junior Women) – 7.5-8k
Medium Advanced (Ultimate Junior Men; Ultimate Open Women) – 13-14k
Long Advanced (Ultimate Open Men) – 18-19k
Age classes
Juniors – 20 and under
Masters – 50+
Open – any age
Ultimate points
While you can run any course you wish, you will receive Ultimate points in a class only if you qualify by age and sex on that course. Please see the chart below for categories in which you can receive Ultimate points.
| | | | |
| --- | --- | --- | --- |
| | Short Advanced | Medium Advanced | Long Advanced |
| Women 20 and under | Jr. Women |  Open Women |  Open Men |
| Men 20 and under | no points* | Jr. Men |  Open Men |
| Women 50+ | Masters Women | Open Women |  Open Men |
| Men 50+ |  Masters Men | no points* |  Open Men |
| Women 21-49 | no points* | Open Women |  Open Men |
| Men 21-49 | no points* | no points* |  Open Men |
*You may run this course but will not receive Ultimate points.
How are courses measured?
Courses are measured as the crow flies, in a direct line from control to control. Unless you have wings, you will travel farther than this distance! Courses are measured in kilometers, so a good rule of thumb is to simply round up to miles to estimate how far you will go. So in a 5 kilometer race, you'll likely travel up to 5 miles.
COURSE NOTES
Check back later for special notes from the Course Designer(s).
SCHEDULE
9:00-11:15 am – Registration
9:00-10:00 am – Newcomer instruction
9:15-11:30 am – Start
2:30 pm – Courses close*
*If you think you might take a long time on the course, start early in the start window. Also, wear a watch to ensure that you return to the finish by course closure time, even if you have to abandon your course to do so. Those returning after course closure will be disqualified and will make the volunteer staff very grumpy.
Why is there a start window?
This event uses an interval start, which means that participants are started in waves instead of all at once. When you arrive at the start tent, find the chute for your course and follow the start volunteer's instructions.
PRICES
Note: To cover additional permitting costs associated with this event, fees are slightly higher (+ $5) than our Seattle-area events.
PRE-REGISTERED
| | | |
| --- | --- | --- |
| | Non club member | Club member |
| Using COC epunch |  $22 |  $17 |
| Using your epunch |  $17 |  $12 |
DAY-OF REGISTRATION
| | | |
| --- | --- | --- |
| | Non club member | Club member |
| Using COC epunch |  $25 |  $20 |
| Using your epunch |  $20 |  $15 |
What's an e-punch?
An e-punch records your race. At each control, you'll dip the e-punch into an electronic box, which will beep and flash as confirmation. After you finish, you'll download the e-punch at the download tent and get a receipt that show which controls you visited and how long you took between each; these are your "splits."
Part of the fun of orienteering is comparing your splits with people who completed the same course, and discussing the routes you took!
SIGN UP
Online pre-registration closes Thursday, June 13 at 9:00 pm
Day-of-event registration is available by cash or check, made payable to Cascade Orienteering Club
Volunteers make these events happen! You can volunteer and participate on the same day, plus earn volunteer points to earn a free meet.
PARKING
THE MAP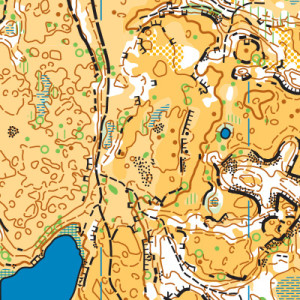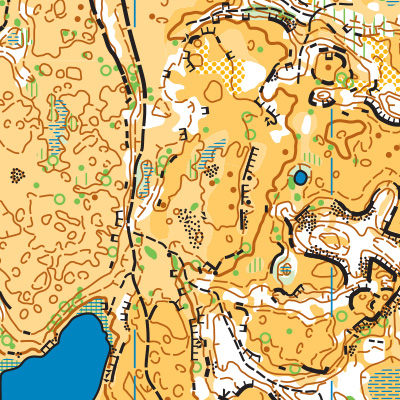 Featuring unique scabland terrain, Fishtrap Lake is challenging, yet accessible, and a complete joy to navigate. On one hand, there are tons of tiny cliffs and rock details. On the other hand, there are so few trees here, that the views are expansive, allowing you to orient yourself off of faraway cliffs. Fishtrap also provides a perfect opportunity to test compass skills, since there is little to stop you from beelining straight to the next control.
Read more on the map page
SAFETY & ETIQUETTE
Return to the Finish
All participants MUST return to the finish and download their e-punch or turn in their punch card.
Even if you have not finished your course, you must still return to the the finish and confirm with event staff that you have returned safely.
Out of Bounds
Some areas may be marked out of bounds. It is imperative to respect these boundaries to maintain our relationships with land managers. Participants MUST NOT go out of bounds. Any participant caught going out of bounds will be disqualified.
Course Closure
All participants MUST return to the finish by course closure time. If a participant does not return by course closure, event volunteers will begin coordinating a search party.
If you need a long time on the course, start as early in the start window as possible, wear a watch, and be prepared to cut your course short to make it back by the course closure time.
Whistle
All participants MUST carry a whistle on the course. Complimentary whistles are available at the start tent (please only take one).
If you are injured on the course and need assistance, blow three long blasts to call for help.
If you hear a call for help, abandon your course to find the person in distress.
Voices
Part of the fun and fairness of orienteering is navigating your own course, so please be polite when you find a checkpoint and don't holler that you've found it.